Accounting and Bookkeeping in Vietnam – New Issue of Vietnam Briefing Magazine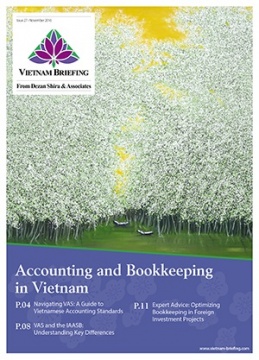 The latest issue of Vietnam Briefing magazine, titled "Accounting and Bookkeeping in Vietnam", is out now and available to subscribers as a complimentary download in the Asia Briefing Publication Store.
In this issue:
Navigating VAS: A Guide to Vietnamese Accounting Standards
VAS and the IAASB: Understanding Key Differences
Expert Advice: Optimizing Bookkeeping in Foreign Investment Projects
Managing accounting and bookkeeping in Vietnam can prove to be a time consuming and constantly changing area of compliance, even for those well-versed in investment within the country. Shifting regulations, changing interpretations of existing legislation, and convergence with international norms all coalesce to form a compliance environment with significant costs.
Although adapting to Vietnam's accounting framework can be a challenge, those with up-to-date information on the country's accounting policies and a keen attention to detail will find that the benefits which Vietnam can impart far outweigh its challenges. To ensure that costs are kept to a minimum, it is critical that companies develop a firm understanding of Vietnam's accounting framework prior to market entry and maintain robust systems of regulatory monitoring during the course of operations within the country.
In this issue of Vietnam Briefing, we outline the basic framework of accounting regulation applied in Vietnam and provide guidance on how to ensure compliance in order to setup and carry out operations within the country in seamless manner. We highlight existing Vietnamese accounting standards, discuss differences between Vietnamese and international accounting standards, and provide expert insight on areas of the compliance process.

About Us
Asia Briefing Ltd. is a subsidiary of Dezan Shira & Associates. Dezan Shira is a specialist foreign direct investment practice, providing corporate establishment, business advisory, tax advisory and compliance, accounting, payroll, due diligence and financial review services to multinationals investing in China, Hong Kong, India, Vietnam, Singapore and the rest of ASEAN. For further information, please email vietnam@dezshira.com or visit www.dezshira.com.
Stay up to date with the latest business and investment trends in Asia by subscribing to our complimentary update service featuring news, commentary and regulatory insight.
‍
Annual Audit and Compliance in Vietnam 2016
In this issue of Vietnam Briefing, we address pressing changes to audit procedures in 2016, and provide guidance on how to ensure that compliance tasks are completed in an efficient and effective manner. We highlight the continued convergence of VAS with IFRS, discuss the emergence of e-filing, and provide step-by-step instructions on audit and compliance procedures for Foreign Owned Enterprises (FOEs) as well as Representative Offices (ROs).
Navigating the Vietnam Supply Chain
In this edition of Vietnam Briefing, we discuss the advantages of the Vietnamese market over its regional competition and highlight where and how to implement successful investment projects. We examine tariff reduction schedules within the ACFTA and TPP, highlight considerations with regard to rules of origin, and outline the benefits of investing in Vietnam's growing economic zones. Finally, we provide expert insight into the issues surrounding the creation of 100 percent Foreign Owned Enterprise in Vietnam.
Tax, Accounting and Audit in Vietnam 2016 (2nd Edition)
This edition of Tax, Accounting, and Audit in Vietnam, updated for 2016, offers a comprehensive overview of the major taxes foreign investors are likely to encounter when establishing or operating a business in Vietnam, as well as other tax-relevant obligations. This concise, detailed, yet pragmatic guide is ideal for CFOs, compliance officers and heads of accounting who must navigate Vietnam's complex tax and accounting landscape in order to effectively manage and strategically plan their Vietnam operations.