Vietnam Human Resources to Improve With Increasing Education Investment
By Nha Huynh
The Ministry of Planning and Investment's Foreign Investment Agency (FIA), has revealed that 213 education projects have received foreign direct investment, reaching a total of US$822 million registered capital up to May 20, 2015. The increasing capital poured in education sector goes a long way to increasing Vietnam's human resources quality, promising multinational corporations a more skilled local labor force.
Vietnam's education industry has become an attractive investment destination for foreign investors, with the presence of education and training projects from 24 countries including Australia, Japan, Singapore, the U.K. and U.S. One example is KinderWorld Education Group, a Singapore-based enterprise among the biggest investors in the sector. The Group is running 15 institutions across Vietnam including Singapore International School (SIS), KinderWorld International Kindergarten (KIK), Singapore-Vietnam International School (SVIS) and Pegasus International College (PIC), providing bilingual programs for students from kindergarten to university level.
Other noticeable projects are:
US-Pacific University – a branch of the American Pacific University with US$150 million registered capital;
British University Vietnam (BUV) with US$70 million registered capital;
Nagai Vietnam Centre – a Japan-backed project with US$68.9 million registered capital;
Oasis Development Management Ltd – undergone by a British Virgin Island's investor with US$68 million registered capital;
RMIT – backed by Australian investors with US$41.1 million registered capital;
Tokyo Medical University with US$20 million registered capital.
Labor force low-cost and increasingly productive
In spite of Vietnam's current increase in minimum salary, the country's labor cost is still competitively low when compared to other countries in Southeast Asia. Although Vietnam's low-cost labor has often been low-skilled, the country's labor productivity is gradually increasing with an annual 3.7 percent growth rate in the 2005-2014 period. The nation's rate of increase is growing – productivity grew 3.05 percent in 2012, 3.83 percent in 2013 and 4.34 percent in 2014. With 48 percent of the labor force working in agriculture in 2012, Vietnam's current structural economic transitions will continue to boost productivity by reallocating the low-productivity agricultural labor to the industrial and service sectors.
We anticipate the continued investment in Vietnam's education sector to be a key part in driving increased productivity overall, as schooling and training boosts the entire economy and provides the skills foreign investor need in the local labor force.

About Us
Asia Briefing Ltd. is a subsidiary of Dezan Shira & Associates. Dezan Shira is a specialist foreign direct investment practice, providing corporate establishment, business advisory, tax advisory and compliance, accounting, payroll, due diligence and financial review services to multinationals investing in China, Hong Kong, India, Vietnam, Singapore and the rest of ASEAN. For further information, please email vietnam@dezshira.com or visit www.dezshira.com.
Stay up to date with the latest business and investment trends in Asia by subscribing to our complimentary update service featuring news, commentary and regulatory insight.
 ‍
Import and Export: A Guide to Trade in Vietnam
In this issue of Vietnam Briefing Magazine, we provide you with a clear understanding of the current business trends related to trade in Vietnam, as well as explaining how to set up your trading business in the country. We also attempt to give perspective on what will be Vietnam's place in the Association of Southeast Asian Nations (ASEAN) in 2015, and look at some of the country's key import and export regulations.
Tax, Accounting, and Audit in Vietnam 2014-2015
The first edition of Tax, Accounting, and Audit in Vietnam, published in 2014, offers a comprehensive overview of the major taxes foreign investors are likely to encounter when establishing or operating a business in Vietnam, as well as other tax-relevant obligations. This concise, detailed, yet pragmatic guide is ideal for CFOs, compliance officers and heads of accounting who need to be able to navigate the complex tax and accounting landscape in Vietnam in order to effectively manage and strategically plan their Vietnam operations.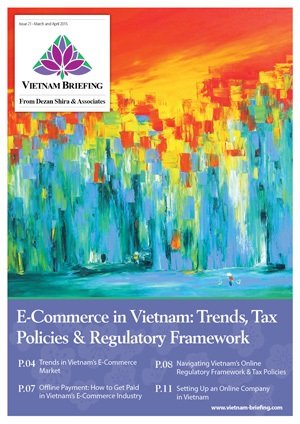 E-Commerce in Vietnam: Trends, Tax Policies & Regulatory Framework
In this issue of Vietnam Briefing Magazine, we provide readers with a complete understanding of Vietnam's e-commerce industry. We begin by highlighting existing trends in the market, paying special attention to scope for foreign investment. We look at means for online sellers to receive payment in Vietnam, examine the industry's tax and regulatory framework, and discuss how a foreign retailer can actually establish an online company in Vietnam.