Vietnam Online – Understanding Vietnam's E-commerce Market
By Edward Barbour-Lacey and Fabio Zaca
HANOI – Vietnam, like much of Asia, has a growing middle class which, in-turn, is spawning a strong consumer culture. Within the country, e-commerce is fast becoming the preferred method of shopping, particularly among the young.
According to Vietnam's E-commerce and Information Technology Agency (VECITA), by 2015, B2C e-commerce sales will amount to more than US$4 billion. Current sales are estimated to be around US$2.2 billion, with an average spending of US$120 per capita. The strong growth that has been predicted is primarily due to the fast increasing number of internet users.
In 2013, Vietnam's online population reached a total of 32.6 million users; this represents 35.6 percent of the total population. The majority of these current users tend to be quite young, with 73 percent under 35 years old. Of current online shoppers, 59 percent are women and 41 percent are men. According to recent surveys, 92 percent of internet users go online every day.
Most importantly, in terms of e-commerce, 61 percent of the country's internet users have bought at least one item online.
VECITA believes that by 2015, 40-50 percent of the country's population will be online and will spend around US$150 per capita on e-commerce purchases.
The market today
Currently, the e-commerce market is quite fragmented and there is no clear market leader. The industry has been somewhat slow to start due to the lack of experience many Vietnamese people have with the concept of online shopping. Many people don't believe in the quality of products until they are able to physically touch them and they usually prefer to buy the item at a physical store after they have viewed it on a website. It is thus incumbent upon e-commerce companies to battle against this skepticism and create trust between the customers and the online shopping sites.
Foreign companies (such as Rakuten) are entering the market and more local companies are merging with each other to remain competitive against the larger foreign competitors (ex. the daily deal sites CungMua and NhomMua). However, it is clear that the market is still wide open and relatively easy for new companies to make their entrance.
What are they buying?
There are clear category favorites for online shoppers, the most popular product categories are:
Fashion and beauty products;
Technology and electronic products;
Kitchen and home appliances; and
Airline tickets.
How do they pay?
However, while online shopping is increasing, online payments are not seeing similar growth – 74 percent of shoppers still paid for their purchases in cash. Payments made by bank accounts and those made via intermediate payments on e-commerce sites accounted for 41 percent and eight percent respectively.
In the future, online payments are expected to increase, along with the number of Vietnamese who will have bank accounts. The country's banking system, long seen as untrustworthy, has been taking great pains recently to reform itself in the hopes of attracting more customers and reducing the number of unbanked Vietnamese.
A factor that has contributed to the growth of e-commerce is the use and diffusion of smartphones. In fact, the smartphone and tablet market is growing and more and more transactions occur using these tools. However, there remains a lack of apps for e-shopping and there are still legitimate concerns over the security of these transactions.  In 2013, laptops and phones were the main vehicles for making online purchases, accounting for 60 percent and 50 percent of purchases respectively.
As e-commerce websites increase in popularity within the country, a greater number will include integrated online payment systems on their sites – currently 54 percent of e-commerce websites have these types of online payment systems.
Looking ahead
While e-commerce growth seems assured, drawbacks still exist in this industry. For example, with respect to HR issues, the country suffers from a lack of skilled labor with the requisite skills for working in the e-commerce industry. However, the government, along with private funders such as Intel, have created a number of training programs geared towards teaching students the skills needed in high-tech industries.
With a population of over 90 million and a fast growing middle class, Vietnam is an increasingly attractive location for businesses to expand to. The country's online market thus stands as a key example of an economy primed for growth in e-commerce and online businesses in general.

About Us
Asia Briefing Ltd. is a subsidiary of Dezan Shira & Associates. Dezan Shira is a specialist foreign direct investment practice, providing corporate establishment, business advisory, tax advisory and compliance, accounting, payroll, due diligence and financial review services to multinationals investing in China, Hong Kong, India, Vietnam, Singapore and the rest of ASEAN. For further information, please email vietnam@dezshira.com or visit www.dezshira.com.
Stay up to date with the latest business and investment trends in Asia by subscribing to our complimentary update service featuring news, commentary and regulatory insight.
 ‍
Import and Export: A Guide to Trade in Vietnam
In this issue of Vietnam Briefing Magazine, we provide you with a clear understanding of the current business trends related to trade in Vietnam, as well as explaining how to set up your trading business in the country. We also attempt to give perspective on what will be Vietnam's place in the Association of Southeast Asian Nations (ASEAN) in 2015, and look at some of the country's key import and export regulations.
Tax, Accounting, and Audit in Vietnam 2014-2015
The first edition of Tax, Accounting, and Audit in Vietnam, published in 2014, offers a comprehensive overview of the major taxes foreign investors are likely to encounter when establishing or operating a business in Vietnam, as well as other tax-relevant obligations. This concise, detailed, yet pragmatic guide is ideal for CFOs, compliance officers and heads of accounting who need to be able to navigate the complex tax and accounting landscape in Vietnam in order to effectively manage and strategically plan their Vietnam operations.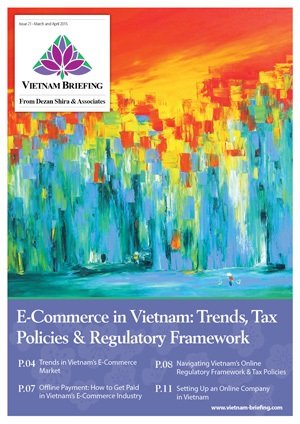 E-Commerce in Vietnam: Trends, Tax Policies & Regulatory Framework
In this issue of Vietnam Briefing Magazine, we provide readers with a complete understanding of Vietnam's e-commerce industry. We begin by highlighting existing trends in the market, paying special attention to scope for foreign investment. We look at means for online sellers to receive payment in Vietnam, examine the industry's tax and regulatory framework, and discuss how a foreign retailer can actually establish an online company in Vietnam.