IFRS and VAS Part 1: Introduction to Vietnamese Accounting Standards
In part one of this three-part series, Vietnam Briefing introduces the differences between IFRS and VAS.
International Financial Reporting Standards (IFRS) are global accounting standards issued and regulated by the International Accounting Standard Board (IASB) to guide the preparation and presentation of financial reports. Vietnam uses IFRS as a basis for its own system, the Vietnamese Accounting Standards (VAS), yet there are key differences between the two.
­
Vietnam's government has issued 26 VAS based on IFRS. To provide guidance for local and foreign enterprises in Vietnam on these standards, the Ministry of Finance recently issued Circulars, No. 200/2014/TT-BTC and No. 202/2014/TT-BTC, which enhance the comparability and transparency of corporate financial statements and bring the two systems closer.
Key differences between IFRS and VAS include terminology, applied methods or presentation scope. Below are several critical differences between the two financial reporting systems.
Presentation of Financial Statements
A complete set of financial statements based on IASB's International Accounting Standard (IAS) 1 includes the following:
Balance Sheet;
Income Statement;
Cash Flow Statement;
Statement of Changes in Equity; and
Notes, including a summary of significant accounting policies and other notes.
The components of financial statements under VAS are:
Balance Sheet;
Income Statement;
Cash Flow Statement; and
Notes.
According to VAS 21, the Statement of Changes in Equity is enclosed in the Notes, rather than as a primary component of the financial statement. Furthermore, VAS does not require disclosure of management's key judgments, assumptions about the future and sources of estimation uncertainty.
Cash Flow Statements
Under IFRS 7, cash flow statements are based on the balance sheets from the first and final period accounting reports, and can include some information from the ledger. IFRS stipulate that receivable accounts and trade payables can be separated from receivable accounts and payables on the sale of fixed assets or long-term assets; hence, cash flow from business is distinct from cash flow from financial investment.
Based on VAS 24, cash flow statements are taken from the cashbook and ledger bank deposits corresponding to the side account. VAS 24 gives guidance on setting up cash flow statement using the indirect method starting from pre-tax profits plus or minus the adjustment including differences of payables excluding payables related to financial investment activities.
Chart of Accounts
Vietnam's Ministry of Finance issued a uniform chart of accounts for enterprises' financial statements. Circular No. 200/2014/TT-BTC introduced new accounts, including corporate restricting funds (Account 417) and prize stabilization funds (Account 357), while some are omitted or amended.
Further Support for Your Business
As all foreign and local companies operating in Vietnam are obliged to conform to VAS, foreign investors should be well aware of unique fundamental characteristics of VAS to fully comprehend compliance requirements and make informed investment decisions.
Dezan Shira & Associates provides accounting and tax compliance services to companies investing in and trading with Vietnam. The firm can help companies establish an online presence and direct office in the country and can guide them through the affiliated accounting, tax, legal and HR issues that come with doing so. To arrange a free consultation, please contact us at: vietnam@dezshira.com

About Us
Asia Briefing Ltd. is a subsidiary of Dezan Shira & Associates. Dezan Shira is a specialist foreign direct investment practice, providing corporate establishment, business advisory, tax advisory and compliance, accounting, payroll, due diligence and financial review services to multinationals investing in China, Hong Kong, India, Vietnam, Singapore and the rest of ASEAN. For further information, please email vietnam@dezshira.com or visit www.dezshira.com.
Stay up to date with the latest business and investment trends in Asia by subscribing to our complimentary update service featuring news, commentary and regulatory insight.
Investing in Vietnam: Corporate Entities, Governance and VAT
In this issue of Vietnam Briefing Magazine, we provide readers with an understanding of the impact of Vietnam's new Laws on Enterprises and Investment. We begin by discussing the various forms of corporate entities which foreign investors may establish in Vietnam. We then explain the corporate governance framework under the new Law on Enterprises, before showing you how Vietnam's VAT invoice system works in practice.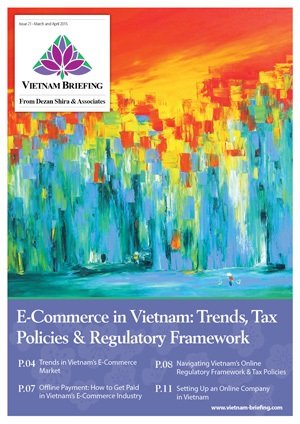 E-Commerce in Vietnam: Trends, Tax Policies & Regulatory Framework
In this issue of Vietnam Briefing Magazine, we provide readers with a complete understanding of Vietnam's e-commerce industry. We begin by highlighting existing trends in the market, paying special attention to scope for foreign investment. We look at means for online sellers to receive payment in Vietnam, examine the industry's tax and regulatory framework, and discuss how a foreign retailer can actually establish an online company in Vietnam.

Tax, Accounting, and Audit in Vietnam 2014-2015
The first edition of Tax, Accounting, and Audit in Vietnam, published in 2014, offers a comprehensive overview of the major taxes foreign investors are likely to encounter when establishing or operating a business in Vietnam, as well as other tax-relevant obligations. This concise, detailed, yet pragmatic guide is ideal for CFOs, compliance officers and heads of accounting who need to be able to navigate the complex tax and accounting landscape in Vietnam.