Indien und Vietnam stärken bilaterale Zusammenarbeit
HANOI – Im Bemühen die bilaterale Zusammenarbeit der beiden Nationen zu stärken, hat Indiens Präsident Pranab Mukherjee Vietnam einen viertägigen Besuch abgestattet. Im Laufe der Verhandlungen wurden sieben Verträge in unterschiedlichen Bereichen unterzeichnet. Von besonderer Bedeutung war das Abkommen für Zusammenarbeit im Öl-Sektor, welches zum Leidwesen Chinas mit einem Aufruf zu Navigationsfreiheit im Südchinesischen Meer verbunden ist. 
Präsident Mukherjee, der während seines Aufenthaltes von einer Delegation aus Parlamentsabgeordneten vieler Parteien begleitet wurde, darunter auch Staatsminister für Erdöl und Erdgas Dharmendra Pradhan, traf seinen vietnamesischen Kollegen Truong Tan Sang. 
Mehr zu diesem Thema: Das Kabinett von Narendra Modi
Die sieben unterzeichneten Abkommen während Präsident Mukherjees Aufenthalt beinhalten Folgendes:
Unterzeichnung einer Absichtserklärung zwischen der Oil & Gas Corporation Ltd., Videsh Ltd. und Vietnam Oil
eine Erweiterung der US-Dollar Kreditlinie zwischen Vietnam und der EXIM Bank of India
eine Vereinbarung über Zusammenarbeit und gegenseitige Unterstützung in Zollangelegenheiten
eine Grundsatzvereinbarung zur Tiergesundheit
eine Grundsatzvereinbarung zur Pangasiuszucht in Indien
eine Grundsatzvereinbarung zur gemeinsamen Förderung von direkten Flugverbindungen zwischen Vietnam Airlines und der innerindischen Fluggesellschaft Jet Airways (ab dem 5. November tägliche Verbindungen von Delhi, Mumbai und HCMC)
eine Grundsatzvereinbarung zur Zusammenarbeit für die Entwicklung der Qualifikationen und Kompetenzen der Jugend
Beide Länder versprachen außerdem, die bilateralen Beziehungen in folgenden Bereichen zu stärken:
politische-, Verteidigungs- und Sicherheitskooperation
wirtschaftliche Zusammenarbeit
Wissenschaft und Technologie
Kultur
technische Kooperation
multilaterale und regionale Zusammenarbeit
Mkherjee und Sang kündigten an, die wirtschaftliche Partnerschaft ihrer Länder durch Steigerung des öffentlichen und privaten Handels, als auch Investitionen  zu vertiefen, insbesonders durch Joint Ventures. Ziel sei es bis 2020 einen bilateralen Handel im Umfang von 15 Milliarden US-Dollar zu erreichen. Handelsschwerpunkte liegen dabei u.a. in der Textilbranche, der Landwirtschaft, Pharmazie und im Tourismus.
Mehr zu diesem Thema: Vietnam to Host 9th Vietnam-EU FTA Talks 
Des Weiteren einigten sich beide Regierungen darauf, ihre bilaterale Zusammenarbeit in Sachen militärischer Aufrüstung fortzusetzen. Aufgrund kürzlicher Spannungen mit China ist Vietnam mehr denn je auf Bündnisse bedacht, die helfen können Chinas Vorgehensweisen auszubalancieren.
"Die politischen Beziehungen zwischen Indien und Vietnam waren immer stark und ungetrübt," sagte Präsident Mukherjee. "Allerdings ist es nun an der Zeit, sich mit neuer Energie auf die Stärkung von Wirtschaftsbeziehungen, auf Anschlussfähigkeit und auf kulturellen und zwischenmenschlichen Austausch zu konzentrieren, besonders in Bezug auf die Jugend."
Bei Fragen zu Wirtschaftsthemen, Steuern, Buchhaltung und Unternehmensgründungen in Asien kontaktieren Sie bitte:
Fabian Knopf, Sr. Associate, Co-Head of German Desk, Dezan Shira & Associates Fabian.Knopf@dezshira.com
Silke Neugebohrn, Sr. Associate, Co-Head of German Desk, Dezan Shira & Associates Silke.Neugebohrn@dezshira.com
Für weitere Information oder um mit Dezan Shira & Associates in Kontakt zu treten, senden bitte Sie eine Email an germandesk@dezshira.com oder besuchen Sie uns auf www.dezshira.com/de wo Sie unsere Unternehmensbroschüre herunterladen können. Bleiben Sie auf dem Laufenden über die aktuellsten Wirtschafts- und Investitionstrends in Asien durch unseren Newsletter. Jetzt abonnieren!
Weiterführende Lektüre (Kostenlos zum Download):
Eine Einführung in asiatische Entwicklungszonen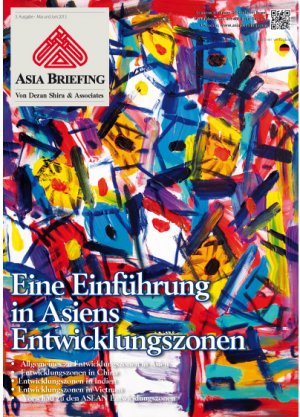 In dieser Ausgabe des China Briefing Magazins erläutern wir unterschiedliche Arten von Entwicklungszonen in China, Indien und Vietnam im Hinblick auf deren spezifischen Vorteile und Charakteristika.
 Das könnte Sie auch interessieren:
Sind Sie bereit für ASEAN 2015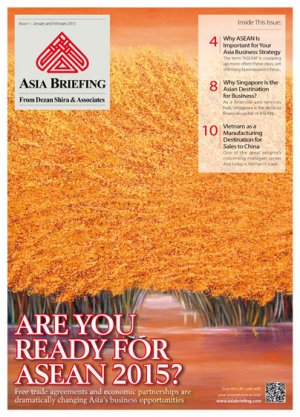 Indien hat ein Freihandelsabkommen mit ASEAN unterzeichnet, jedoch sind sich noch immer viele Unternehmen nicht bewusst, inwiefern diese Freihandelsabkommen und Wirtschaftspartnerschaften die Geschäftsmöglichkeiten in Asien dramatisch verändern. Diese Vereinbarungen reduzieren Zollgebühren und Zölle von tausenden Produkten. In dieser ersten Ausgabe des zweimonatlichen Asia Briefing Magazins, konzentrieren wir uns auf die Veränderungen, welche das ASEAN Freihandelsabkommen für die gesamte Region bringen wird, sowie auf die tiefgreifenden Auswirkungen von pan-asiatischen Freihandelsabkommen, wie das Regional Comprehensive Economic Partnership.